The mission of the Division of HIV/AIDS Prevention and Care, in collaboration with community partners, is to reduce the incidence of HIV infections, to increase life expectancy for those infected, and to improve the quality of life for persons living with or affected by HIV. The charge of the Division is to:
monitor the epidemic
improve public understanding of HIV
prevent or reduce behaviors that transmit HIV
increase individual knowledge of HIV serostatus
strengthen systems for referral to appropriate prevention and treatment services
Start Talking Alabama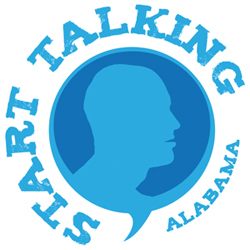 The Start Talking Alabama campaign seeks to increase HIV awareness and decrease the stigma by sharing prevention, testing, and treatment information, and support.
Every Dose Every Day App
The CDC's new Every Dose Every Day app is designed to help providers support medication adherence among people living with HIV. Medication adherence improves health outcomes and increases the prevention benefits of treatment. Visit the CDC to learn more about the app.
Young African American Males at High Risk for HIV Infection
This report is now available online.
HIV Incidence Estimation, 2010-2013
This report is now available online.
Finalized 2013 HIV Surveillance Annual Report

The Finalized 2013 HIV Surveillance Annual Report is now available.
Recommendations for HIV Prevention 2014
The CDC has released its "Recommendations for HIV Prevention with Adults and Adolescents with HIV in the United States, 2014: Summary for Health Departments and HIV Planning Groups." The report is now available online.
Brief Facts on African-Americans and HIV in Alabama
This report is now available online.
Continuum of HIV Care by Public Health Area New!
The Continuum of Care, 2013 depicts persons living with HIV in Alabama who are engaged in selected stages of HIV treatment. Successful HIV Prevention and Care programs exhibit high linkage to care among newly diagnosed clients, as well as effective retention in care and adequate viral load suppression among existing HIV-positive clients. As viral load is considered a measure of infectivity, maintaining a suppressed viral load may decrease the likelihood of infecting another person and is the focus of Treatment as Prevention strategies. People living with HIV who adhere to antiretroviral treatment (ART) and have suppressed viral loads can reduce the risk of sexual transmission of HIV by 96%. A Preliminary HIV Continuum of Care, 2014 is also available.
Alabama State Plan: Implementation of the National HIV/AIDS Strategy
The current Alabama State Plan for implementing the national HIV/AIDS strategy in our state is now available online. (2 MB)
AIDS in Alabama: The First 1,000 Days
This document, produced in 1985, examines the impact of the AIDS epidemic in Alabama during its first 1,000 days, beginning with the first diagnosis of AIDS in an Alabama resident in 1982. The full report is now available online. (1 MB)
Alabama AIDS Drug Assistance Program (ADAP) Satisfaction Survey
The ADAP Satisfaction Survey is designed to help improve ADAP medication services. The survey should take approximately 5-10 minutes to complete, and answers and comments will remain anonymous. Take the survey.
HIV/AIDS Integrated Epidemiological Profile
Information about the current HIV/AIDS epidemic is provided in the HIV Integrated Epidemiological Profile, 2011. This profile describes the socio-demographic and geographic characteristics of people living with HIV/AIDS and at risk for HIV infection in Alabama. The profile is also a resource for guiding prevention interventions and service delivery efforts within Alabama.
HIV and Pregnancy
The Division of HIV/AIDS Prevention and Control collaborates with Alabama's medical providers to reduce the incidence of perinatal HIV infection. Visit HIV and Pregnancy for more information.
STD/HIV REPORT Card
Physicians, dentists, nurses, medical examiners, hospital administrators, nursing home administrators, lab directors, school principals, and day care directors are responsible for reporting Notifiable Diseases in Alabama. The Alabama Notifiable Diseases Rules, Chapter 420-4-1, specifies the diseases and conditions requiring notification, and the time frame and methods for notification. To report a case of HIV (including symptomatic infection, AIDS, CD4 counts and viral load), please use the STD/HIV REPORT Card.
Content Warning
This site contains HIV prevention messages that may not be appropriate for all audiences. Since HIV infection is spread primarily through sexual practices or by sharing needles, prevention messages and programs may address these topics. If you are not seeking such information or may be offended by such materials, please exit this website.