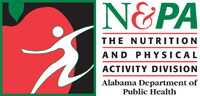 The Nutrition and Physical Activity (NPA) Division implements nutrition and physical activity interventions, and promotes policy and environmental initiatives to increase the number of Alabamians who maintain a healthy weight, eat balanced meals, and are physically active.
The division, located within the Bureau of Professional and Support Services, serves as the link to external partners that have similar interests in healthy lifestyles.
"This institution is a equal opportunity provider". The NPA Division participates in the SNAP-Ed Nutrition Education Program with the United States Department of Agriculture. For the full nondiscrimination statement, click here.